Bϋtterfinger & GϋmmyBear: Hey everyone! It will be our first time to review! We hope you guys read it through and get something from our simple thoughts and insights.
Bϋtterfinger: This is to rave about the events of one of the greatest night to start the year. As you all know, and for those who don't, GϋmmyBear and I were at the advance screening of one of the most anticipated movies of 2010, Sherlock Holmes! Starring Ironman's Robert Downey Jr., Jude Law, Rachel McAdams, and Mark Strong.
GϋmmyBear: Well, we were just so lucky that we won the contest in Fudge Magazine. Funny thing about it we both joined the contest and won. We both have same reason why we joined, it's because we wanted to treat each other to an advanced screening. Fortunately, we both won. ϋϋϋ

Bϋtterfinger: Yup yup, It was our first time to attend an advance screening and boy was it different from a normal movie viewing experience. First off, I think it was exclusive and had limited tickets, so somewhat we felt special and lucky to have been admitted (special thanks and a big shout out to FUDGE magazine!).
GϋmmyBear: We were like Alice in the Wonderland. We're so jubilant about the advance screening because it was our first time. We're like "Can we take a picture on the poster? Here here, on the red carpet..." And yeah, I agree Bϋtterfinger; the ticket was different compared to the ordinary movie ticket. It was BIG with a great touch because the texture was SMOOTH and it had a picture of the film. It also had a schedule of the activities of the event including a cocktail before the film started. Soooo cool! Love it!
Bϋtterfinger: The event started at about 6:30pm, people started to line up at about 7pm. Haha… Excitement filled both our hearts as we joined the handful of people who lined up, and there was a red carpet lined out at the front of the ticket admittance booth, we REALLY felt privileged! (Halatang first time to attend this type of event). GϋmmyBear the cocktail wasn't just a cocktail because when we got inside the lobby, there was a small spread, a buffet composed of Carbonara fettuccini, Potato Salad, Small bite sized tuna sandwiches, Roast beef ( at least I thought it was), some brownies for dessert, and iced tea.

GϋmmyBear: UNLIMITED ICED TEA BABY! ϋ The thing was the line was so long, so he suggested to go straight inside so we'll have good seats because everyone were still eating. In order to eat, we decided to go in the cocktail alternately. So we both tasted the food and at the same have good seat. Haha! Love the teamwork!

Bϋtterfinger: And good thing GϋmmyBear and I already ate before the event. We ate at Food Choices while waiting for the representative of Fudge Magazine. We picked the Korean Express and ordered Bibimbap. I didn't know that it was my GϋmmyBear's first time to eat Bibimbap. We hurriedly ate it because we're supposed to meet the representative at around 6pm and it's almost past 6pm. We texted that we're going to be late and the representative texted back that it's okay because they got stucked in a heavy traffic.

GϋmmyBear: It was delicious but honestly I didn't appreciate it that much because I ate it as fast as I could because of the time. Thanks baby, we'll try it again! ϋϋϋ

Bϋtterfinger: No worries Honey, we'll have time next time we go there, I'm sure we'll be craving for more Bibimbap on our next movie outing. ϋϋϋ

GϋmmyBear: So, about the movie,.

Bϋtterfinger: *WARNING: SPOILERS ALERT*

GϋmmyBear: Yeah, it is! So, don't read further if you don't want to be spoiled with infos.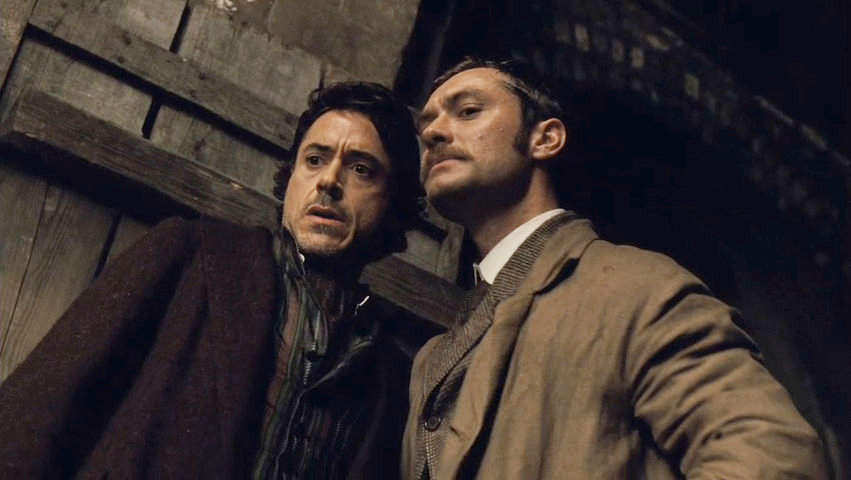 Bϋtterfinger: It started with the scene where the cult rituals are being performed, showing in Watson, and the Sherlock himself. First impression was, "For one, this is going to be a good action movie", and I was right, it especially made my night when I saw how Sherlock Holmes analyzed by logic how he would confront an attacker (Kudos to the director Guy Ritchie and staff). It showed a slow motion visualization of how Holmes would engage the enemy, giving away notes in Holmes's mind then showing it in real time.

GϋmmyBear: Dark Magic meets Science and full of Bro-mance and LOGIC. The movie was explicitly beautiful. What more can I ask. The director up to the cast was merely amazing. I also love the part where Sherlock Holmes' mind anticipate all things, reason for being well known detective despite of being so laid-back.

Bϋtterfinger: BRO-Mance, yeah, I noticed at once the bond and chemistry Watson and Holmes have, which were portrayed by Jude Law as Watson, and Robert Downey Jr. as Holmes. They played the characters well.
GϋmmyBear: It is, and thanks to Dr. Watson his "life saver" and who always gave Sherlock Holmes the reason to be a respected person. The story revolved around their strong bond being as partners or brothers. They were given a test when Dr. Watson decided to marry Irene. They usually had guy fights, but they still care for each other without the hugs and all the softy things. I remember a scene in which Dr. Watson tried to save Holmes from the explosion. It was really heartwarming. Cliché!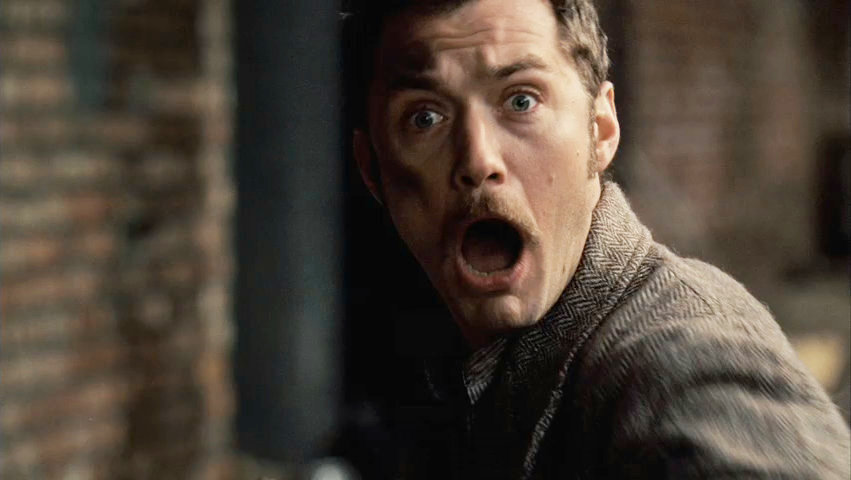 Bϋtterfinger: Oh, that part was awesome! very good scene with great effects on the explosions and the slow motion just made it more dramatic. "HOLMES!!!.."

GϋmmyBear: You told me that you've got the chance to watch the cartoon version of it. How did it go before compare to the now in the movie?

Bϋtterfinger: Yup, I remember watching Sherlock Holmes back then during my childhood days, it was cartoons! Even the immortal line, "Elementary my dear Watson", was used in the cartoons, but I don't remember hearing it during the movie which was somewhat a letdown for me, but just a bit.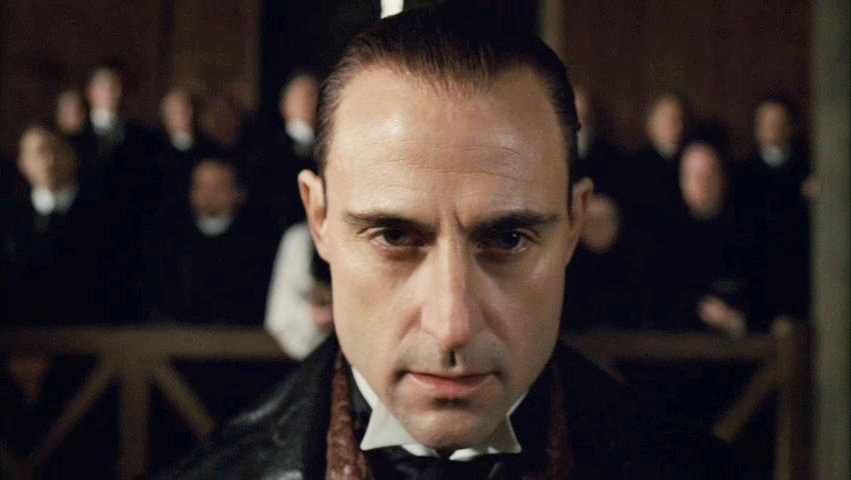 GϋmmyBear: Coool! I didn't get the chance to watch it. Sherlock Holmes was somewhat familiar, I don't know where, maybe in books? I guess. Aside from the conflict between them, there was also another thing that bothered me about the story; It was Blackwood's threat. Sherlock Holmes strikes two birds with one stone. That's how the story worked. But good story doesn't always end like that. I feel there'll be a sequel if the budget and feedback will be unquestionable.

Bϋtterfinger: definitely a sequel coming up, basing on the way they ended the movie with a cliff hanger, I'm sure they'll go for number 2. Another thing I like about the movie is its fast catchy humor, lines were delivered perfectly, the wit of Robert Downey's portrayal of Holmes and the rough gentleman portrayal of Watson by Jude Law.
GϋmmyBear: I also did love the humor somewhat British ayt? I love British humor! To sum it up, it is a good watch especially if you're an avid fan *obviously* It has humor and all the action and suspense the story needs so you'll not be bore like we did. Very much recommended to people who loved detective theme movie like Nancy Drew and Hardy Boys and to those who like to engage their mind in situation full of LOGIC.
Bϋtterfinger: It is Honey, Sherlock Holmes gives its movie goers a feeling that intellectual can be a thrill ride, full of superb logic, twists and turns, with a cliché plot of hero saves the city kind of thing, but the great cast and great rendition makes even simple logic become exciting and a great video game concept.